Despite a lot of negative commentary, the average American has a strong charitable streak. Charitable giving is at an all-time high in recent years, giving rise to some interesting statistics:
Donor Behaviors and Attitudes
Donors typically have a personal connection or a deep passion for the organization and its cause.

Many donors spread the wealth. Nearly 80% of Donors, donate to more than one organization and 60% donate to an average of four organizations.

Volunteering and events go hand in hand. 75% of those who volunteer, donate. This is especially true for Millenials (52%).

Content is NOT just king, it is money. 75% of Donors have indicated that they stop donating because of poor or irrelevant content.

Content quality, length and frequency also matter. 50% of all Donors want at least monthly communications. Millennials prefer twice per month.

Personalization is extremely important with over 70% of Donors saying they feel more connected and engaged when they get personalized content.
The changing nature of the demographic is also evident in this area as more and more "millennials" are dominating the workforce and moving into their prime earning years. While it remains the case that Baby Boomers, Matures and GenXers currently tend to donate more as they age, the dominant audience component is soon to be Millennial. This is having a profound impact on how Organizations will need to communicate and influence.
Donor communication is a two-way street as most Donors listen actively, not just passively receive. This is such a prominent issue that 72% of Donors say poor content has an impact on whether they donate or not. Of nearly equal importance is the degree of frequency (cadence) with which they require information.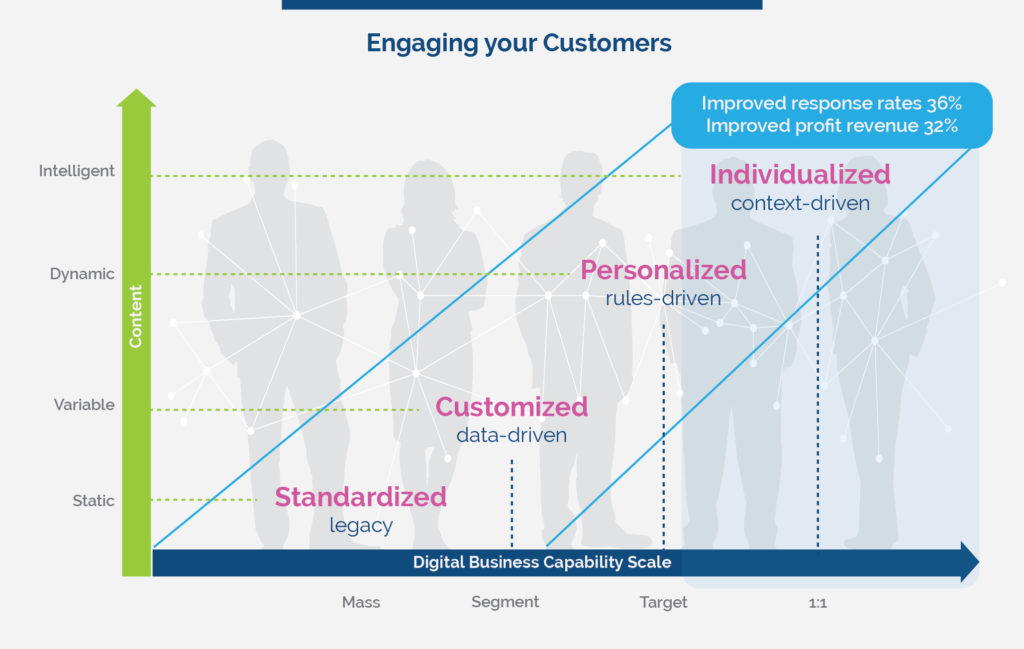 The future benefits of a SmartTouch™ solution are considerable and include the following:
Improved competitive positioning through consistent & relevant messaging;

Utilization of a SmartTouch™ platform will automate routine, manual document handling and processing by integrating with existing CRM applications to create a robust "digital servicing" environment;

A cohesive environment for data management & omni-channel distribution of donor communications content will make the entire process much more cost-effective, offering a much improved ROI for Donor campaigns;

Driving enhanced donor satisfaction across all "touchpoints" creates numerous opportunities to prevent potential loss of donors.
With the emergence of CCM solutions and its unique convergence of analytics; consumer behavior; ECM; imaging and CRM technologies…in combination with the Insurance Industry's trends and business drivers foretell an inevitable shift from archaic disparate technologies to the more unifying and scalable CCM framework.  The current shift in demographics (Baby Boomers to Millennials to Gen Y) and emerging technologies (Smartphones; tablets; readers etc.) will only serve to accelerate this shift.
Forward thinking organizations are already preparing to embrace the demands that current and future customers are placing on them to improve their communications capabilities. Failure to do so will lead to continued donor disinterest and attrition.